A few weeks ago I attended PressNomics 4 in Phoenix. I've been to every PressNomics and plan to keep coming back. Sally, Josh, and the Pagely team put on one hell of an event in a great location. Let's get to the highlights from this year…
Friendships
Every year I walk away with new friends, but also with deeper connections to those I've met before. This year I set out to help this along by organizing dinners and treating some folks to an NHL hockey game.
The dinners were great. Great food, great conversation. The only thing I'll change next time is the size of the groups. They were a little big at 8-10 people. Six is probably the right number.
The hockey game was awesome. We had great seats (8 rows from the glass) and a great group to share it with. Brady and the Mojo Marketplace guys treated us to a fancy limo ride…
When attending #pressnomics do it @bradt style! pic.twitter.com/Fm2Gm7nrPs

— Rebecca Gill (@rebeccagill) March 4, 2016
It blew a tire on the way back, but Carrie took control of the music, Dave did some air guitar, and everyone else pitched in with the vocals. We made the most of it…
Memories were made and good times were had.
(In case you're wondering we didn't have to camp in the bus overnight and forage for nuts and berries. They had another bus come pick us up pretty quickly.)
Advice & Inspiration
Every year I also walk away with a bunch of notes. Everything from parenting tips and movie recommendations to marketing strategy and hiring tactics.
This year I got some good advice about storing passwords and sharing them with my team. LastPass had a breach last year, so I've been put off by cloud password managers. When I asked the experts from SiteLock if a Google Spreadsheet would be better they frowned and explained that password managers store the passwords encrypted, Google Spreadsheets does not. Good point! Needless to say we're now using 1Password for Teams.
At dinner, Syed convinced me that our planned Amazon SES plugin should be a SaaS + WordPress plugin instead of a WordPress plugin that connects directly to AWS. This lead me to rethink our whole strategy with AWS plugins.
I had a chat with Shredder and Jorbin about how WordPress core needs background processing. Both agreed, so I asked, what's a path for getting background processing into core? It doesn't really make sense as a feature plugin. Shredder suggested piggybacking on a feature plugin that needs background processing. Amazing!
Talks from the Heart
For me, the choice between attending a talk in the dark and chatting with people in the sun is a no brainer. I absorb hardly any sun this time of year in Nova Scotia, so I gotsta get my vitamin D! I spent most of my time in the courtyard but I did attend a few talks. The notable ones are those that got personal.
Corey gave an inspiring, candid talk about his personal and professional struggles. Pippin shared some personal stories to illustrate why he will be putting the interests of his team before those of his customers, and the interests of his customers before plugin partners. And Josh interviewed Alex King in a video recorded just before he passed away last year. The room was very emotional during and after the screening. I was among those with tears in my eyes.
I was very impressed that Josh headed out to Colorado, hired a video production crew, and set up the whole interview. He did an amazing job and I can only imagine how much work went into it. He certainly didn't have to do it, but I'm really glad that he did. Thanks Josh.
In the interview, Alex shared an important point that I hadn't realized. That you must constantly be repeating and reinforcing the cultural values of your company. Over and over. In programming, repeating yourself is bad practice. In fact, we have an acronym for it: Don't Repeat Yourself (DRY). And so it wasn't obvious to me that I should be repeating myself about company culture. In fact, I was getting annoyed about it recently. Now I can feel good about repeating myself when it comes to company culture and make an effort to do it more. Thanks Alex.
Cut Throat Competition
Pat Sullivan, one of Josh's mentors, gave an energetic talk about sales and competition. I loved it. Sure, there was lots I didn't agree with, but also some great stuff. Talking to people afterward, it was clear that one part definitely rubbed them the wrong way: that 90% market share isn't enough and that you should stop at nothing to get the other 10%.
I agreed, I didn't like the way this was presented. Whether he intended to or not, it felt like he was advocating for crushing the little startup entrepreneur. I think many of us in the room approach competition with a "there's plenty to go around" mantra. So stamping out the little guy doesn't feel right.
On the whole, the PressNomics crowd is pretty green when it comes to business. For most, it's their first business. I think it was good for people to at least hear from someone outside the WordPress business bubble that doesn't share this mantra and has a more ruthless view of competition.
Business is Good
Josh gave a nice presentation on the growth of Pagely and some of the reasons for their more recent acceleration. It's great to see that their repositioning in the market and switch to AWS has been a boon for them. They deserve it.
We just had our best sales month ever in February and asking around at PressNomics, I heard lots of the same from everyone. It seems that people had their wallets open in February.
Golf Chatter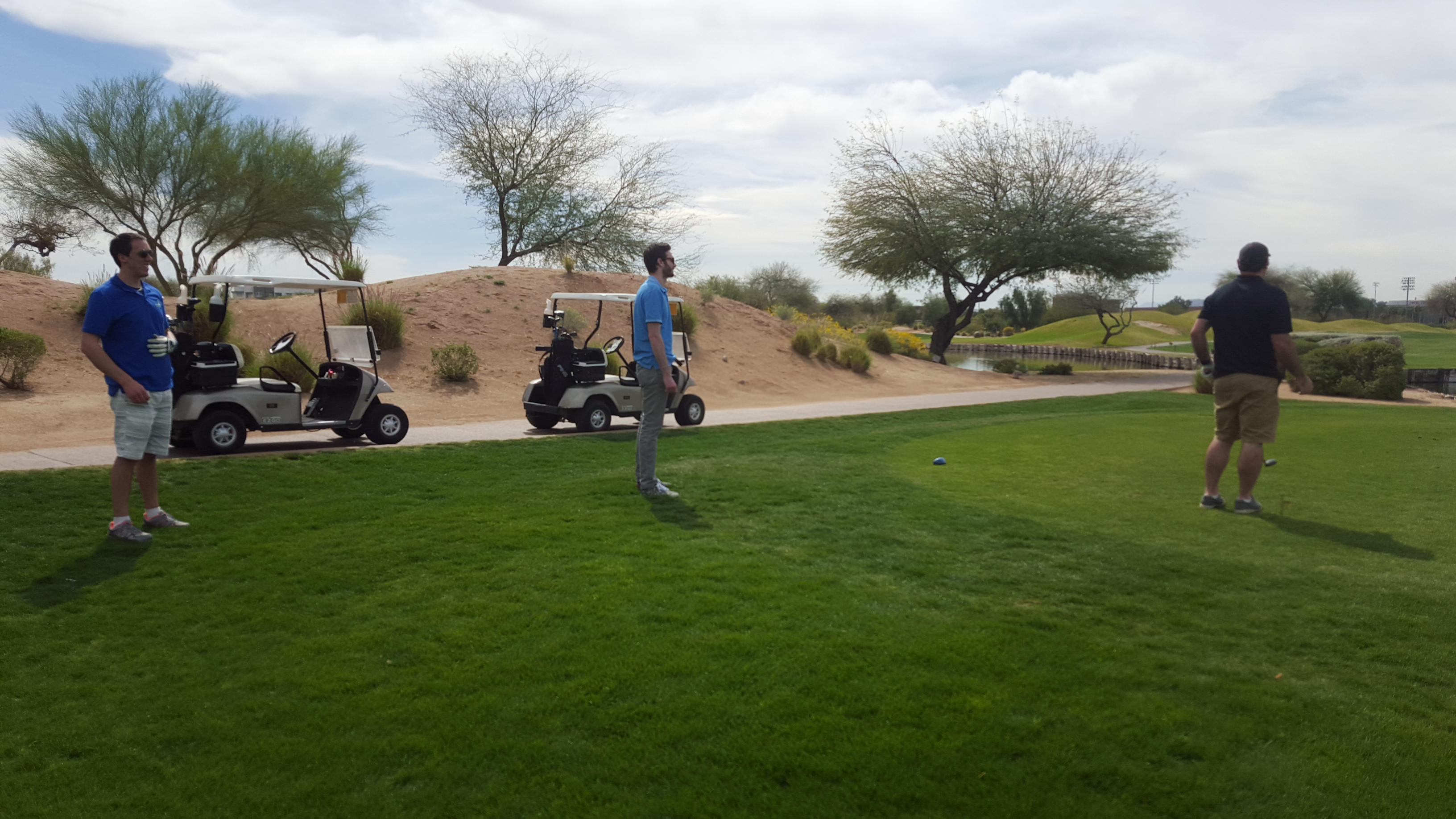 I had a great time golfing with Kyle, Vova, and Chris. Everyone contributed some great shots and we ended up -4 on the day. Weather couldn't have been better. We chatted mostly about golf and random stuff, but Chris and I had a good discussion about WP Cron and how it's a big problem for his plugin and ours.
Low traffic sites that don't have WP Cron setup properly simply don't execute cron on schedule. For Post Promoter Pro it means that tweets and Facebook posts don't get published at the scheduled time. For WP Offload S3 it means that background processing stalls and takes a very long time to finish.
Chris said he has considered building a pinging service and including it in the plugin. My team had brought up the same idea internally. We wondered how many other plugins could use a pinging service and if it would be worth pooling resources to build a solution plugin authors could use. Maybe someday we'll prioritize this. For now it's on the ideas heap.
That's a Wrap
Obviously I can't cover all the awesome discussions. I had many more and have lots more notes, so it was tough to cherry-pick just a few highlights. If you feel that we had an awesome conversation that I didn't mention, call me out in the comments and tell the story!
Next I'll be attending WordCamp Europe in June. In fact, our whole team will be in Vienna for a week as it's our annual company retreat. Will we see you there?