A few weeks ago, Brad and I had the opportunity to attend Chris Lema's CaboPress for the first time. CaboPress is a smaller "conference" located in Cabo San Lucas, Mexico and held at the Fiesta Americana Grand in Los Cabos. I use quotes around the word conference because it really was different than any event I've attended before. There are only around 40 people in attendance and all sessions were in the pool! The session hosts didn't have slides or computers (obviously).
The format is also different from most other conferences and Chris told us right off the bat that CaboPress "would ruin all other conferences" for us. I was thinking that was a big claim, but he turned out to be right.
The Venue
Probably one of the best features of CaboPress is that it's located in Cabo San Lucas. The resort is probably one of the nicest places I've ever stayed. The food was amazing with all sorts of restaurants. On top of the food, the location was right next to the Pacific Ocean (a big deal for a land-locked dude like myself) with really nice pools and sights.
The Schedule
The 3 main days of the conference were pretty packed with activity, here's how the days looked:
7:00
For the brave few, our mornings started at 7am with a workout down by the beach. Our fitness instructors Drew and Joy led us through a half-hour HIIT MMA/Kickboxing inspired workout. I gotta say, I did not enjoy getting up that early to workout, but during and afterwards I felt great. It was nice to get a sweat on that early in the day and it really woke me up. Didn't need my usual 3-cup-minimum of coffee ☕.
8:00
After the morning workout was breakfast at the breakfast buffet where I consumed far too much delicious food. It is the most important meal of the day, right?
9:00 & 10:30
After stuffing myself, our sessions started at 9am in the pool. There were two morning pool sessions (one at each side of the pool) at 9am and two sessions at 10:30am. The sessions themselves were held by our CaboPress hosts.
12:00
After the morning sessions we ate with our lunch group – the same five people each of the three days.
13:00 – 17:45
After lunch, the afternoons were unscheduled and most of us either ended up back in one of the pools or at the beach.
17:45
We met for dinner each day at 5:45pm where Chris gave us any information we needed for the next day and the topic of discussion for dinners. We had to pick groups of 5-6 to eat with, and we were given criteria for who we were allowed to eat with. This often led to battling to get the groups of people you wanted to eat with 😂.
After dinner we chatted more with our dinner group or met up with others and continued the discussions into the night.
22:00
Since I was getting up early to work I often headed to bed around 10pm.
Sessions
The sessions were interesting for me, as I'm not a traditional entrepreneur as most attendees were. The first session I attended was "From Side Hustle to a Serious Product Business" hosted by James Laws, co-founder of Ninja Forms. It was cool hearing about how they started as smaller side project and grew into the company they are today.
On day two, Shawn Hesketh's "Telling stories on video" session was interesting as I learned about the "hero's journey" method to storytelling. Essentially, the method says marketing efforts should emphasize an understanding of your customer's problem and highlight how your service or product fixes things for them. Shawn also explained what kind of gear and software to use when recording screencasts and video which was something I had wondered about.
On the last day of sessions, Chris followed through on what Shawn was talking about the day previous in his "Marketing Message Frameworks that Work" session. Something I hadn't considered previously is how empathizing with a customer's problem can be a powerful marketing technique.
Lunch Chats
After each session we met with our assigned lunch groups. I ate lunch with Brad, Ali and John of Credo and James who leads the Jetpack team at Automattic.
At first we didn't know why we were all grouped together, but figured we were all product(ish) companies and were all growing said product(s). Ali and John are working on Credo – a SEO-marketing matching service – matching agencies with marketing professionals. James is looking to update and market Jetpack and Delicious Brains is looking to grow all our products across the board.
We mostly talked about the problems we are facing with our products and provided ideas to help solve each other's problems. If nothing else it was good for me to hear how other people tackle problems with their businesses and products. If I'm honest I mostly listened during lunch, soaking it all in.
Takeaways
The biggest takeaways for me were a better understanding of the WordPress business landscape. The group of folks at CaboPress was pretty evenly mixed between agencies and product companies so both sides of the WordPress landscape were presented.
Some key takeaways for me were:
Product marketing is more successful if you're empathetic to a customer's problem and position your product as a solution to their problem
Business is hard and a lot of entrepreneurs work long hours to be successful
There is a lot of money to made in the WordPress ecosystem and many have been successful building companies in this space
Nothing beats in person conversations, something I'm realizing is the best part of conferences and our annual Delicious Brains retreats
Free margaritas are amazing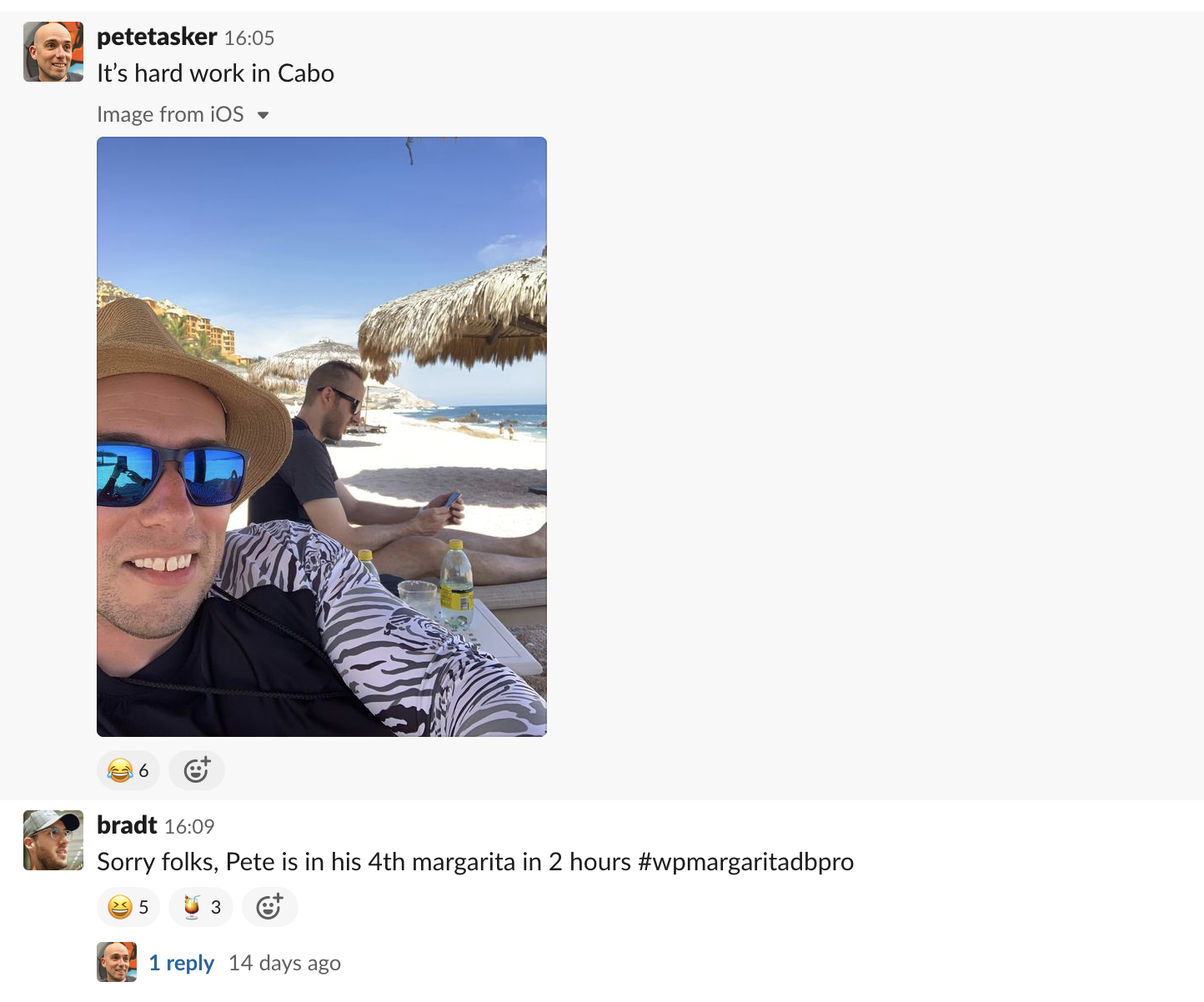 It was refreshing having discussions with similarly minded folks, turns out that many WordPress entrepreneurs and business owners are developers too!
It was also good to hear from people that use WP Migrate DB Pro and WP Offload Media. More than one person mentioned the Delicious Brains blog and how much they enjoy our content. So I guess that means we won't stop publishing blog posts any time soon 😃.
And that's about it. It was a short trip, but CaboPress 2019 definitely had an impact on me and how I view the WordPress business landscape. I learned that a lot of product companies have similar struggles and learned some techniques that I can bring to my work at Delicious Brains.
Have you been to CaboPress before? Attended a similar event in the past? Let us know in the comments!