The high deliverability and low cost of
Amazon SES but with way less hassle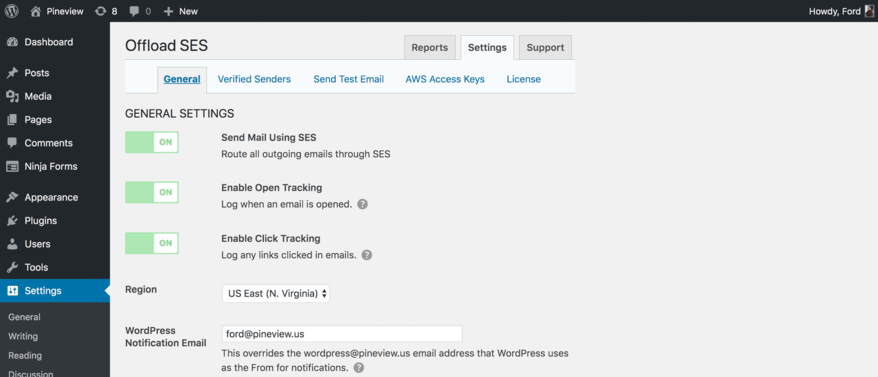 WP Offload™ SES is a plugin that takes over email sending for your WordPress site, sending all site emails through your Amazon SES account. It offers the benefits of sending your site emails through Amazon SES without the negatives.
I use SES for my projects and I know the pain involved in setting it up. Thankfully @dliciousbrains has done it again with their latest: WP Offload SES!

Jon Christopher
The Benefits of Amazon SES
High Deliverability + Control
Your web host (like all others) has outsourced email sending to a third-party provider who promises to keep your email out of SPAM folders. But you don't have any visibility into your sending reputation or control over it. An Amazon SES account of your own will get you high delivery rates in addition to insights into your reputation and control to improve things should your reputation decline.
Cost-Effective
No monthly fee. You pay only for what you use. And SES has the lowest cost of any email sending service. Just $0.10 per 1,000 emails sent. And if you want a dedicated IP, only $24.95/month. If you run your WordPress site on Amazon EC2, the first 62,000 emails you send through SES every month are free.
Without the Negatives of Amazon SES
Painful Painless Setup
The setup wizard built-in to WP Offload SES guides you through each step of setting up Amazon SES for your site. With screenshots and detailed instructions, you can rest assured that you'll have it set up correctly on the first try. No need to guess about settings you don't understand, re-read the perplexing AWS docs a fifth time, or scour Google search results for answers as to why it's not working.
Lack of Tracking and Analytics
The Amazon SES site would have you believe it's easy to set up Amazon CloudWatch to track opens and clicks for your emails, but it can involve trying to follow half-baked documentation, guessing, and trial and error. WP Offload SES has open and click tracking built-in so you don't have to mess around with CloudWatch and all your reporting is right there in your WordPress dashboard.
Setup wizard
Manually setting up Amazon SES to work with WordPress is a big hassle. WP Offload SES makes this easy by guiding you through the setup process step-by-step and providing you with guidance to ensure you understand what you're setting up at each step.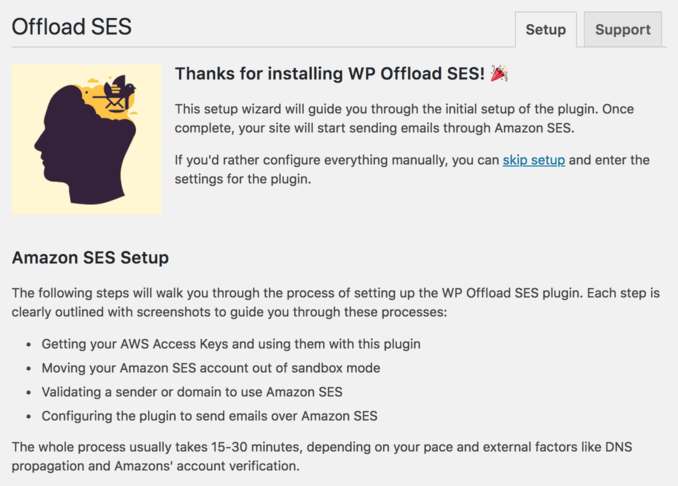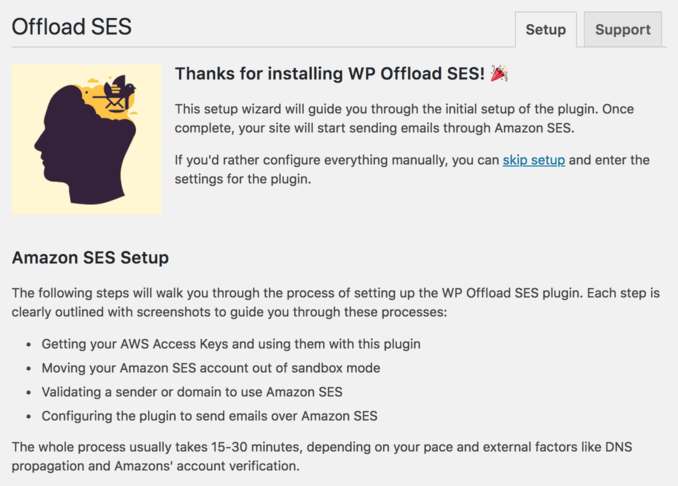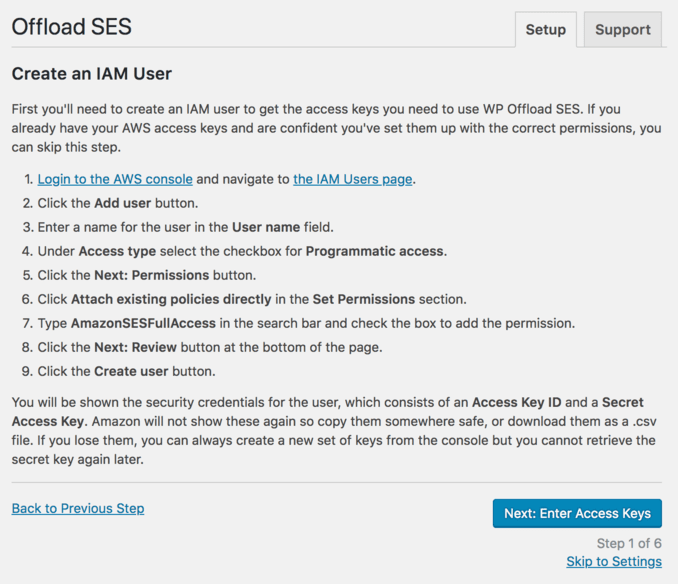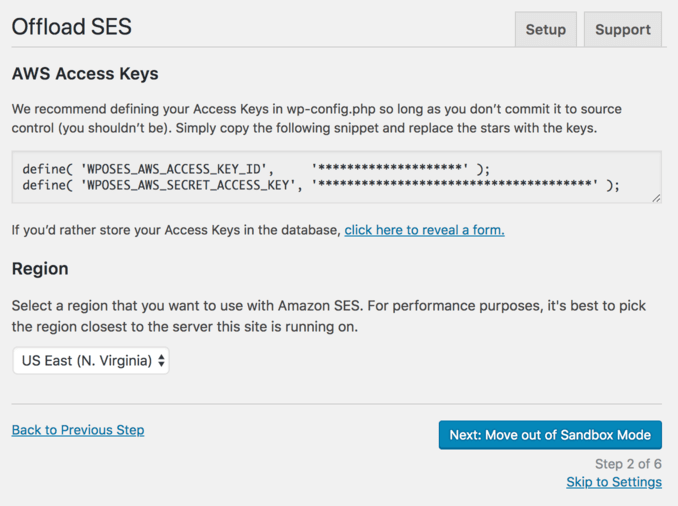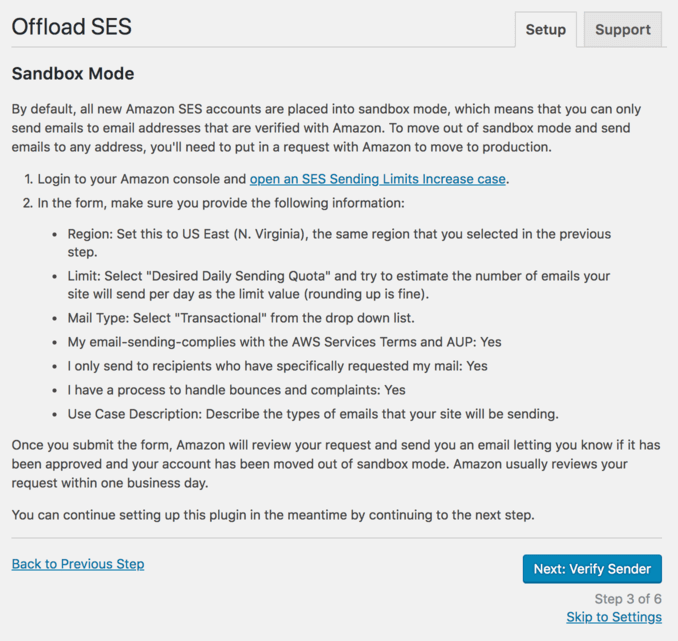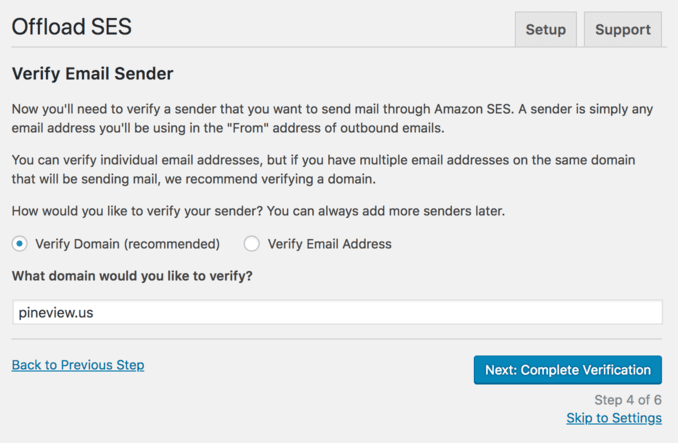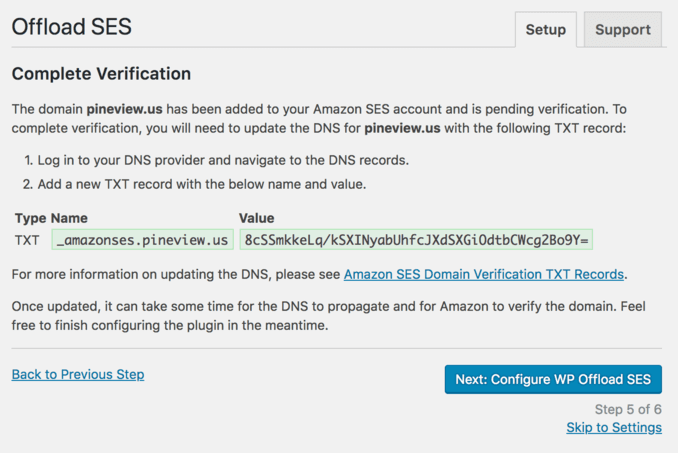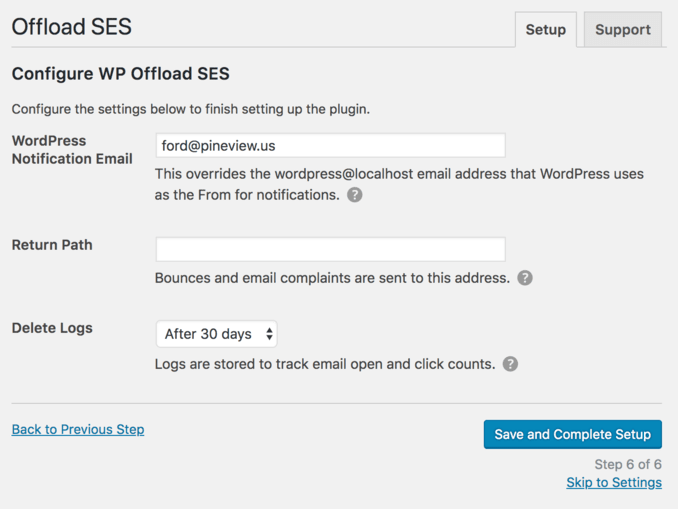 Open & click tracking
Implementing tracking for your emails in Amazon SES is a painful undertaking. When you enable the open tracking option in WP Offload SES, it will add an invisible image to all outgoing emails to track how many times each one has been viewed. When you enable the click tracking option in WP Offload SES, it will replace every email link with a special tracking link.

Open & click reporting
It's important to be able to measure the engagement of your site emails. Are people actually opening certain emails? Are they clicking links? With that information, you can try to update an email's subject line and see if the open rate improves. Or update the email copy and see if more people click on the links. With WP Offload SES, you can access all of this instantly, from your WordPress dashboard.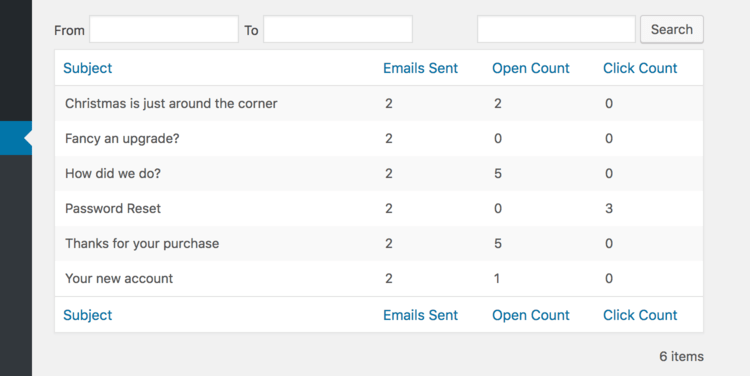 Auto-retry email sending failures
Every Amazon SES account has a max send rate. If you try to send more emails per second than your account rate, Amazon SES will return an error and refuse to send the email which could result in dropped emails if not handled properly. WP Offload SES is aware of your SES account's send rate and will stay within the limit, but in the event of a failed send (e.g. a networking issue) the robust queue system will retry sending those emails and keep track of failures.
Manually retry email sending failures
Let's say there was a networking issue that prevented your site from connecting to Amazon SES to send your email. WP Offload SES will automatically retry sending a few times before giving up and calling it a failure. If that happens, you can simply retry those failures once connectivity to Amazon SES is restored. With WP Offload SES none of your emails will get dropped into the ether because of a failure.

Manually resend any sent emails
Let's say that one of your users accidentally deleted a message that was sent to them. You can find that email in WP Offload SES and resend it in just a few clicks. No more manually assembling the pieces of the email you think they need because you don't have a copy of the original email.

Search for any email
Amazon SES doesn't log emails sent on its own, let alone allow you to search for a sent email. WP Offload SES logs every email sent and allows you to filter by date and search by recipient and/or email subject.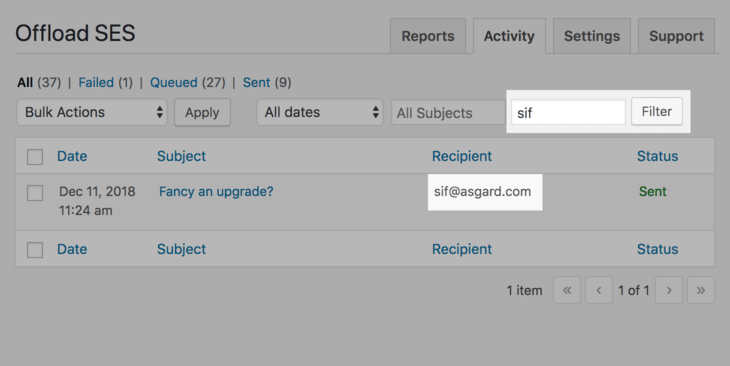 View a specific email
WP Offload SES saves the full content of every email sent through your WordPress site, allowing you to view exactly what your customers were sent.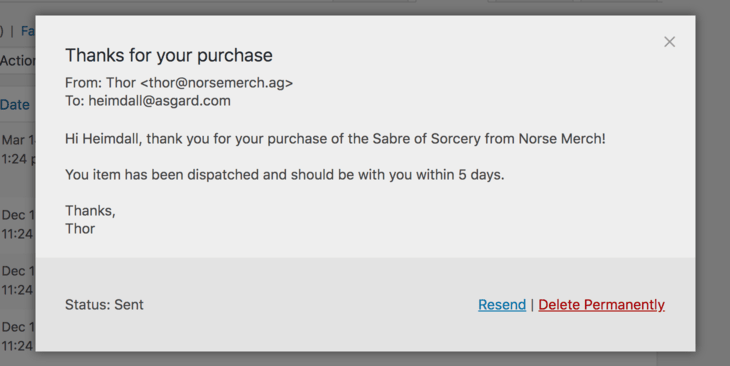 Analyze engagement for a specific email
Would you like to know if a customer has viewed a specific email they've been sent? Or maybe you want to know if they've clicked the links in the email? Simply search for the email, click View Email and you can see how many times they opened that particular email and how many times they clicked on the links. No more time consuming back-and-forth with the customer, asking if they've received an email or not.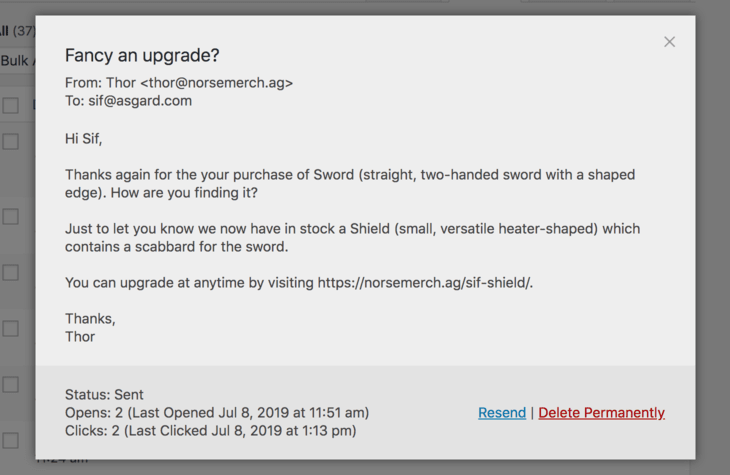 Verify senders from your WordPress dashboard
No need to login to the AWS console to add/remove sender emails or domains, you can do that right from your WordPress dashboard. Instructions to verify a new email or domain are also provided, so there is no need to get lost in the jungle that is the Amazon SES documentation.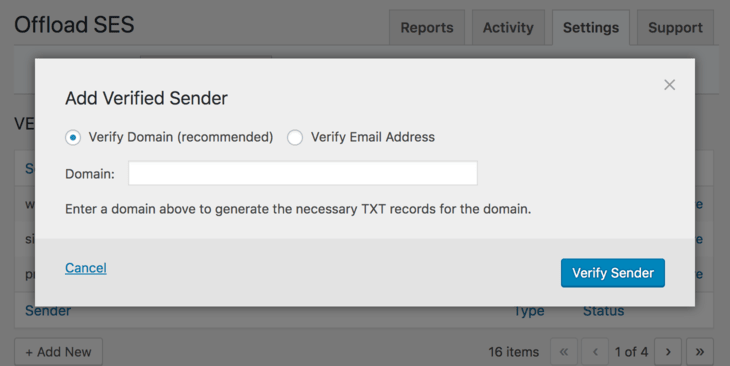 Weekly health report gives you peace of mind
Has your site successfully sent all its emails this week? You're thinking, "I hope so." If you're like most folks, you simply don't know for sure. With WP Offload SES, you can get a daily, weekly, or monthly health report delivered to your inbox, informing you on the health of your email sending and giving you confidence about your site emails. In addition to listing any email sending failures, the report shows the top emails sent along with their open and click counts. You can configure the report to be sent to all Administrators or to a custom list of recipients.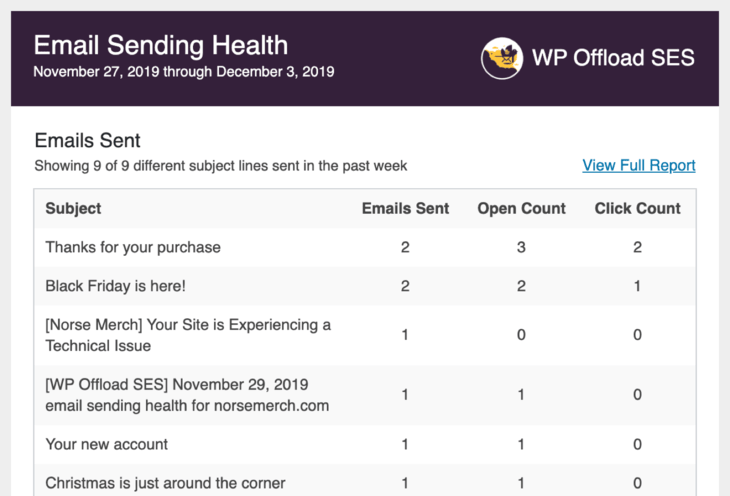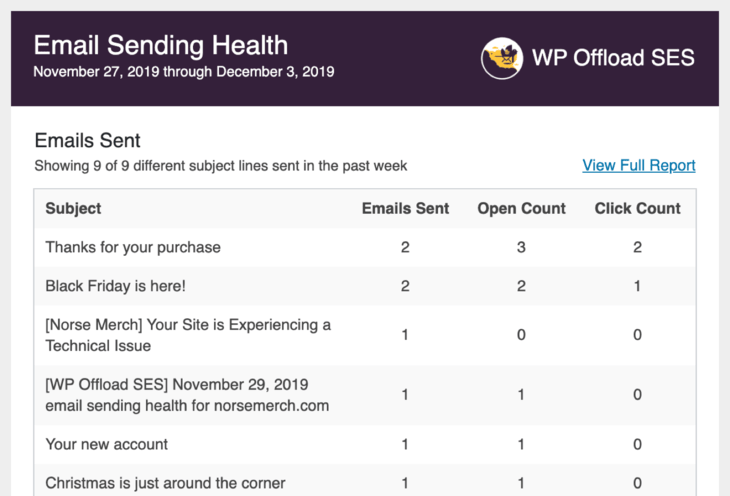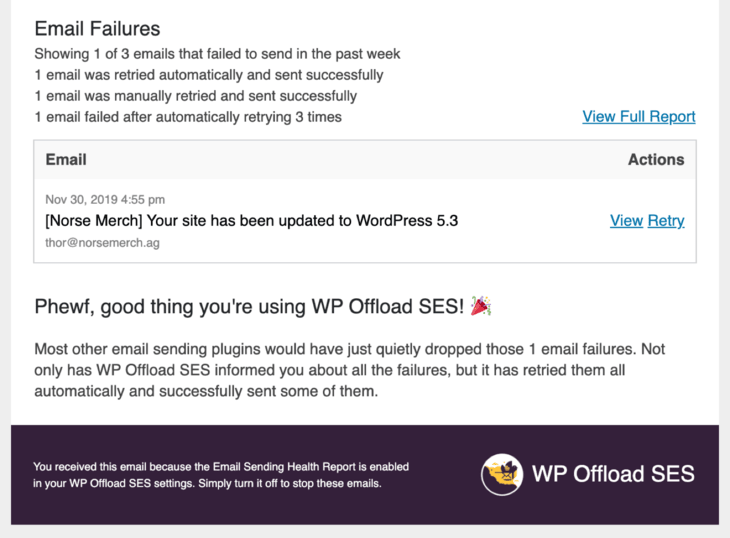 Multisite compatible
Painlessly set up email sending for your entire WordPress multisite network and monitor open and click rates. Configure different settings for each subsite or set universal settings at the network level.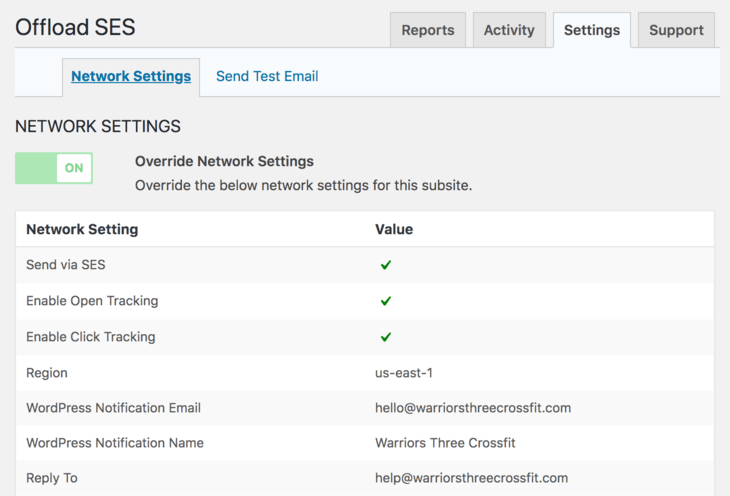 Work talk: WP Offload SES from @dliciousbrains is slick as hell.
Lightweight email newsletter features
Just what you need for simple email newsletter sending and nothing you don't. No drag and drop email builder here. And certainly no marketing automation stuff. This will be dead simple email newsletter features. You'll be able to create lists, import subscribers, send simple emails, and allow visitors to subscribe/unsubscribe. Want to customize the look and feel of the emails? You can always change things up with some tweaks to your site's theme files.
Handling bounces & complaints
By default with SES, bounces and complaints are sent to you by email and that's all. There is no report in the AWS console of exactly which emails have bounced or received a complaint, nor is there a way to handle them. We're planning to show which emails have bounced as part of the WP Offload SES reports so you can clean up your email address list periodically. We also plan to have actions/filters you can hook into with code to automatically handle bounces and complaints.
Reputation monitoring
The AWS console allows you to review statistics about your reputation and do some reputation management. We're planning to pull this data into your WordPress dashboard so you can manage it without needing to login to AWS.
Unsubscribe from site emails
The ability for a user to unsubscribe from site emails is a significant feature missing from WordPress. For email addresses that have hard bounced for example, it doesn't make sense to continue sending them emails, so we can automatically unsubscribe them from future site emails. In the future you'll have the option to include an unsubscribe link in the footer of your site emails to satisfy your users' need to unsubscribe and better comply with ever-tightening privacy regulations.
If you want to hear when these features are available for WP Offload SES, sign up here.
Kudos to @wpoffloadses. Just used it on one of our client sites. Great plugin for WordPress in combination with rock solid AmazonSES for sending email reliably.

Mark Davoli
Compatible with your favorite plugins
Although WP Offload SES is designed to work with all form plugins, we have strong relationships with the people behind the following form plugins. We work with them to ensure WP Offload SES continues to work on their platform as both products evolve. And if there is a problem, we have a dedicated contact at these companies we can reach out to for a quick resolution.
Up and running on two sites in less than 15 minutes. Great work @dliciousbrains

James Northard