WP Offload Media
Speed Up Your
WordPress Site
Offload your media and assets to Amazon S3
and serve them lightning fast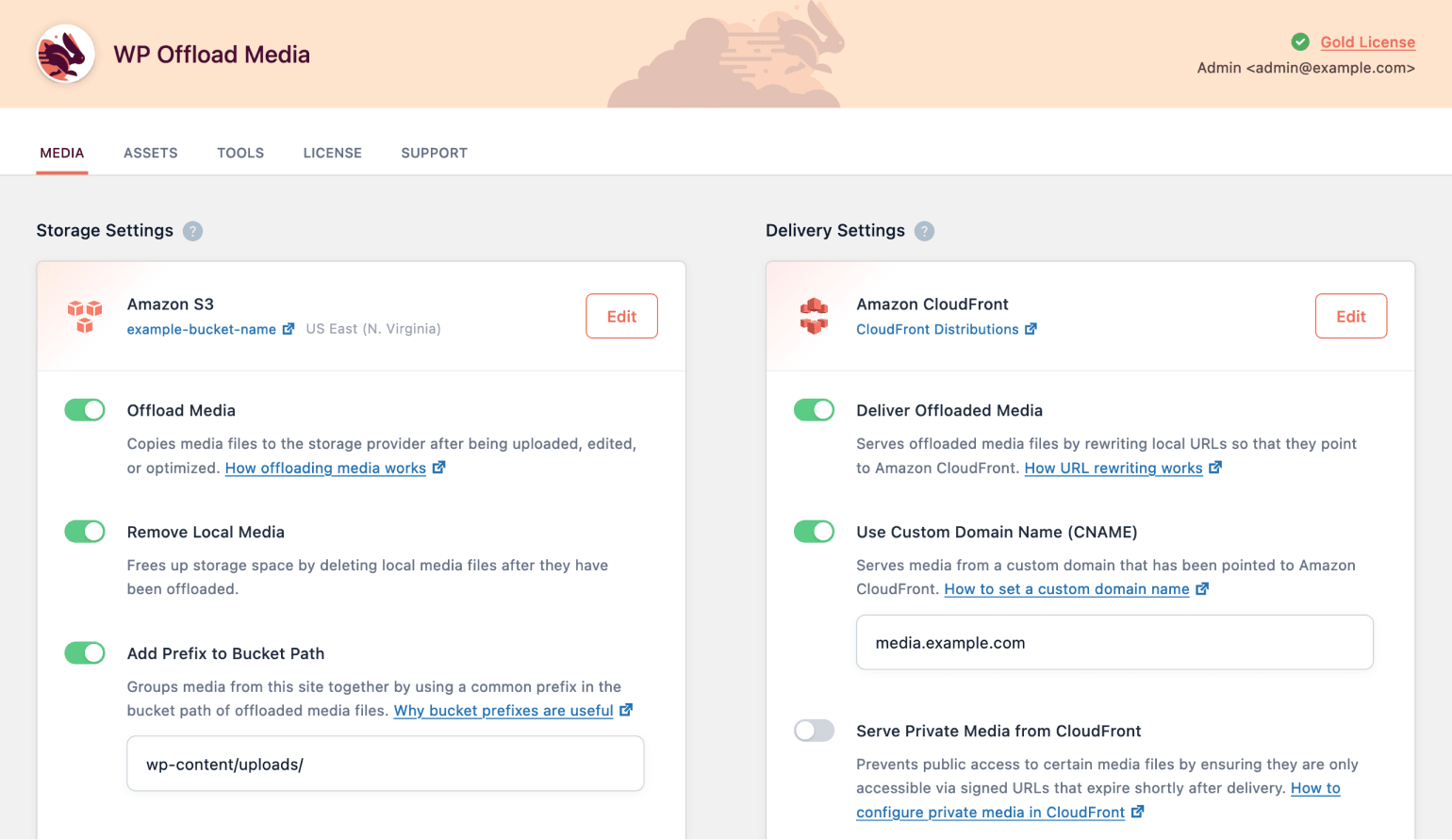 The
#1 WordPress Plugin

for Serving Media

and Assets

WP Offload™ Media is a WordPress plugin that stores your media files and assets in the cloud and serves them from a Content Delivery Network (CDN).

Speed up your site by reducing server requests and loading your media and assets faster.

Lightning-fast pages keep your visitors happy, increase conversion rates, and drive more sales.

View Pricing
Trusted By World-Class Brands and Organizations
The New Look of
WP Offload Media 3.0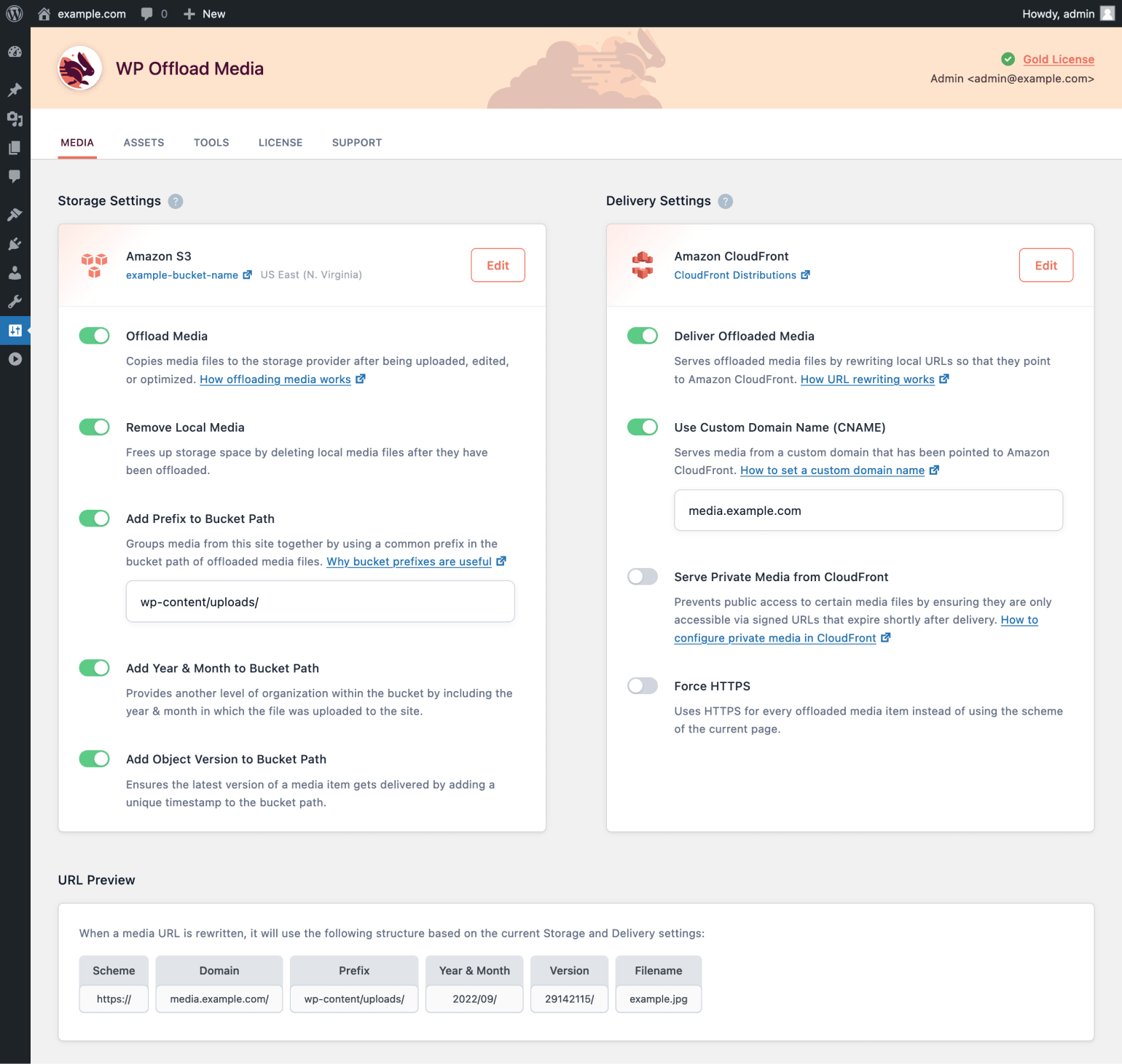 Performance Is Everything
Why
Site
Performance

Matters
Search Engine Optimization

Google is obsessed with speed. Since 2010 they've included page speed as a ranking signal in their search algorithms. Lower page speed means a negative impact on your page rank for search engine results, meaning less organic traffic to

your site.

Decrease Bounce Rate

More than half of your visitors will abandon your site if it takes more than 3 seconds to load. Every time someone abandons your site, your search engine rankings are negatively affected, and fewer and fewer potential customers find you in the

first place.

Increase Conversions

A great experience when visiting your site has a direct, positive impact on turning your visitors into customers. A happy visitor is more likely to become a

paying customer.

Customer Satisfaction

If you've convinced a visitor to buy your product or service, you'll want to keep them satisfied throughout the shopping experience. Making sure your cart and checkout process is fast

is crucial!
Ready To Speed Up Your

WordPress Site?
Offload your media to Amazon S3, DigitalOcean Spaces, or Google Cloud Storage and serve it lightning fast with Amazon CloudFront or another CDN.
Why Store
WordPress Media

in

the Cloud?
Free Up Server Disk Space

WP Offload Media offers the option to remove local media files from the server once they've been uploaded to cloud storage (a.k.a. object storage), freeing up disk space on

your server.

Of course, you can choose to leave this option off so that files remain on the server in addition to residing in the cloud. It's

your choice.

Backup and Restore Media

Cloud storage services like Amazon S3, DigitalOcean Spaces, and Google Cloud Storage offer versioning features that can be enabled with a flip of

a switch.

With WP Offload Media uploading every media item to your cloud storage with versioning enabled, every media item uploaded will be preserved. Even if a file is deleted, the service will keep a version you can

restore later.

Share Media Between Servers & Environments

Storing your media in the cloud means it's portable. Migrating your WordPress site from one server to another? If your media is already in the cloud, that's one less thing you need to move. Or maybe you want to share a Media Library between

development environments?

You can configure each environment with the same WP Offload Media settings, allowing each site to read/write from the same object storage bucket. No need to sync media

between environments.

Solve Load Balancing

When setting up a load-balanced WordPress site across multiple servers, you may run into a problem wherein uploaded media lands on one server but not

the others.

How can we share the Media Library across multiple servers? The answer is simply to offload it to cloud storage with

WP Offload Media.
Your
Fastest
WordPress Site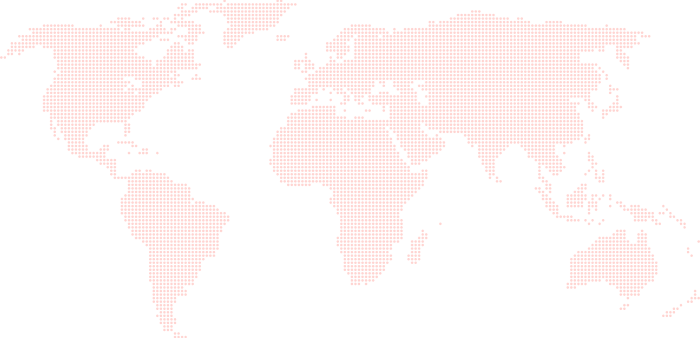 Origin Server
User
Whenever a user visits a page on your site, the server has to process not only the request for the page itself, but also any media (photos, videos, etc.) and assets (CSS, JavaScript, fonts, etc.) required for the page.
WP Offload Media allows you to serve media and asset files from Amazon CloudFront or another CDN, bypassing your server entirely. This opens up server resources that can be focused on processing PHP and serving your WordPress pages faster.
With just a few clicks, it becomes your fastest WordPress site!
Quickly & Easily
Offload Your Media

to

the Cloud

WP Offload Media takes the pain out of connecting and copying your WordPress media to cloud storage and serving it from a CDN.

Painless Setup, Done in No Time

Setting up WP Offload Media with your favorite storage provider is a breeze. Simply provide access keys to WP Offload Media and it can handle creating and setting up the object storage bucket for you. Or you can browse your existing buckets and select the one you'd like to use.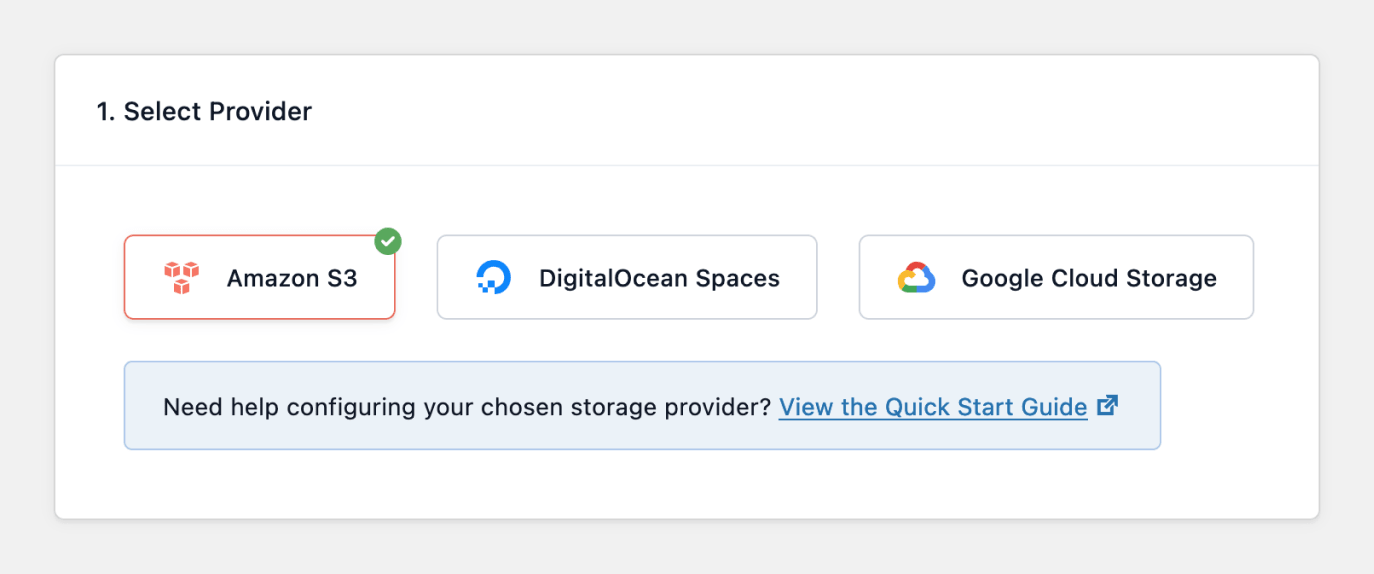 Easily Upload Your Existing Media Library
With just a click, you can offload your existing Media Library in the background. Close the browser tab and forget about it, or keep the tab open and monitor its progress from the settings page. You can even pause and resume the uploading process.

Control Your Cloud Storage From the Media Library
You no longer need to log into your storage service to manage your files. We've sprinkled filters and controls throughout the Media Library. Bulk select media and perform operations on it like uploading to cloud storage, removing from cloud storage, and copying back to the server.

Private Media Served Lightning-Fast From Amazon CloudFront or Google Cloud CDN
Selling digital goods via WooCommerce or Easy Digital Downloads? Maybe you have a membership site and need to protect members-only videos and other content?
With WP Offload Media and Amazon CloudFront or Google Cloud CDN, some of your files can be restricted while others can be public.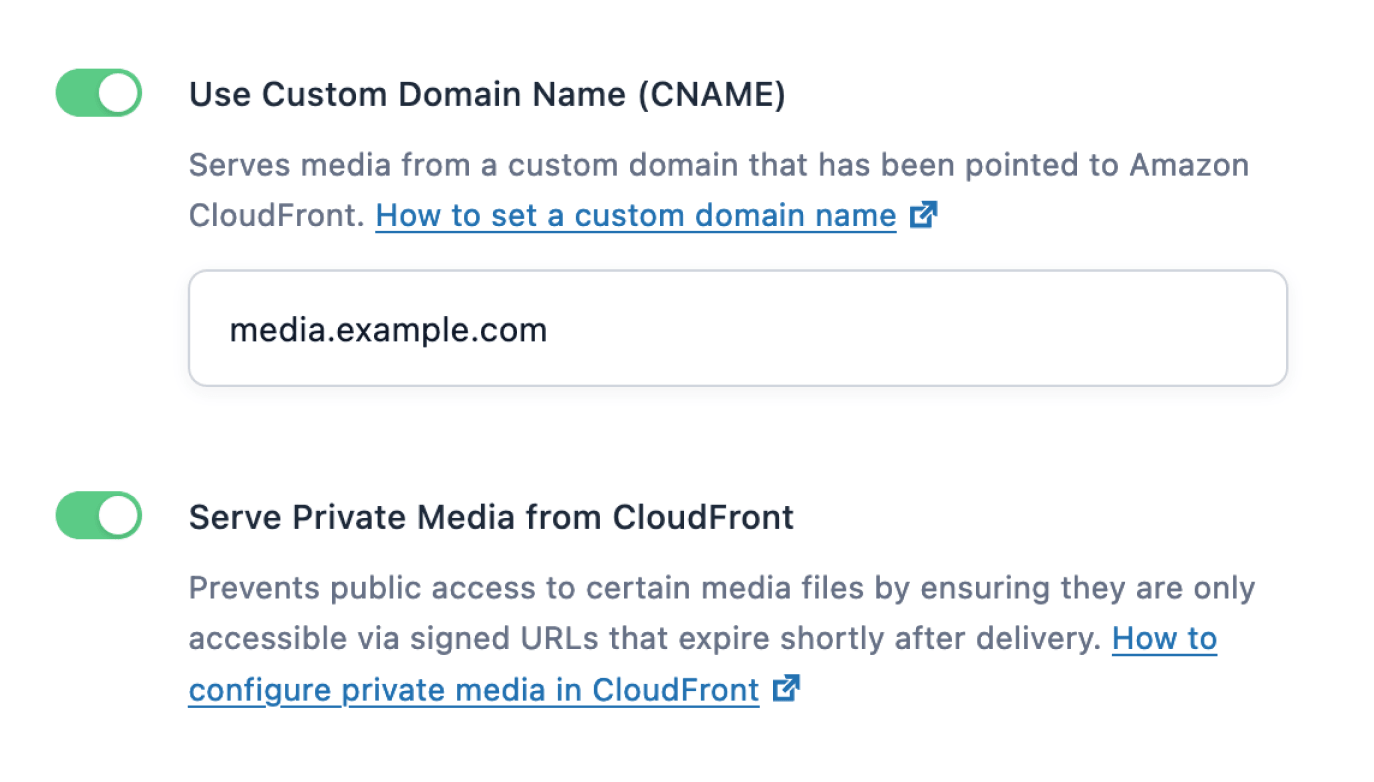 Remove Files From the Server
Tired of running out of storage space? WP Offload Media can reduce your server storage usage. Enable a single setting and it will automatically remove local media files from your server as soon as they've been offloaded.
Or use the bulk management tool to remove existing offloaded media files from the server in the background and free up storage space.

Download and Remove From Cloud Storage
Removed all the offloaded media files from your server but need them back? WP Offload Media can effortlessly download your media from Amazon S3, DigitalOcean Spaces, or Google Cloud Storage with the click of a button. No scripts or command-line tools are needed.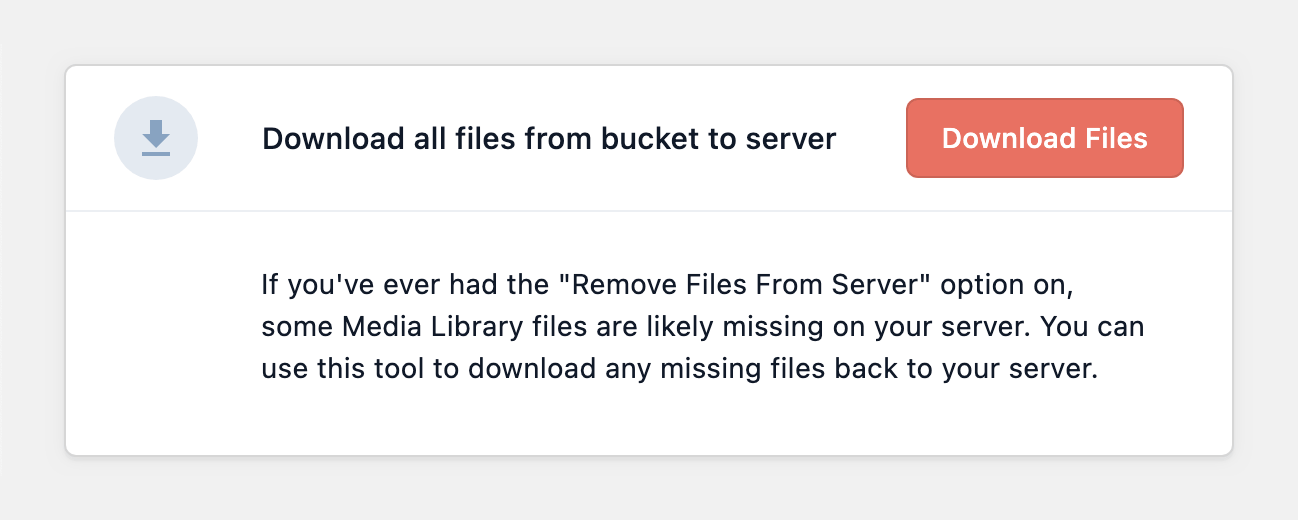 Ready To Speed Up Your

WordPress Site?
Offload your media to Amazon S3, DigitalOcean Spaces, or Google Cloud Storage and serve it lightning fast with Amazon CloudFront or another CDN.
Plenty of Object Storage Providers to
Choose From
Out of the box, WP Offload Media supports the object storage offerings from Amazon Web Services, DigitalOcean, and Google Cloud. We also provide you with straightforward technical guides on using S3-compatible object storage providers, like Wasabi and Min.io.
View Pricing
Choose Any CDN
You Want
When you're ready to set up a CDN, we offer straightforward step-by-step instructions.
Amazon CloudFront
Google Cloud
DigitalOcean
Cloudflare
KeyCDN
Stackpath
👆
These are our favorites, but you're free to choose one outside of this. WP Offload Media works with any CDN.
If you'll be serving private media, we highly recommend going with Amazon S3 for object storage and Amazon CloudFront as your CDN as they are tightly integrated and offer the best protection for your private files.
Google Cloud Storage and Google Cloud CDN together is another good option if protecting private files is a priority.
Switch Between Cloud Storage Providers Without Missing a Beat

🥁
WP Offload Media will even help you move your files if you change service providers. The plugin has built-in tools to download them to your WordPress site and remove them from the old provider. Once you've updated the plugin with the new provider details, the background offloading starts over again.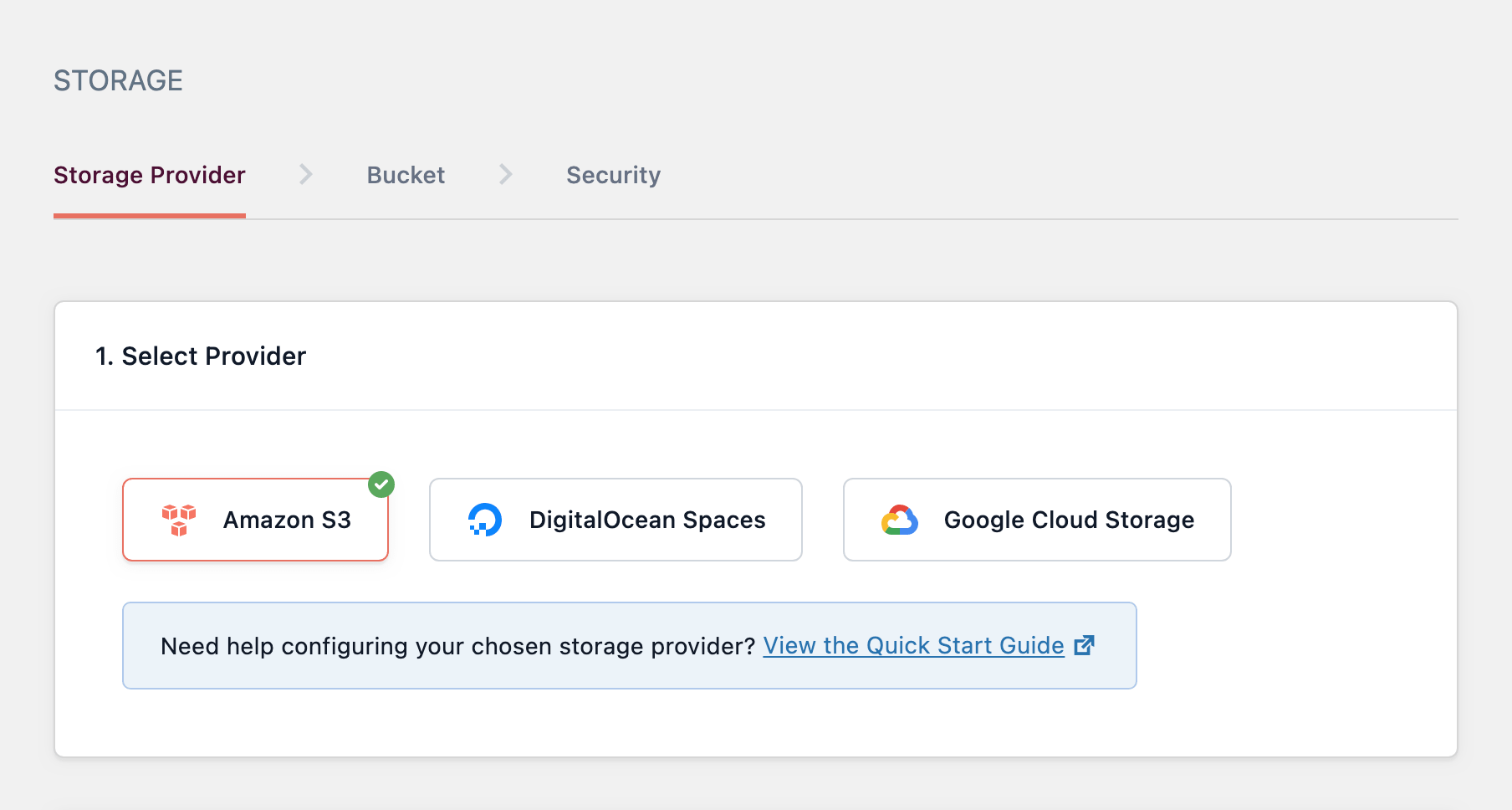 Your Fastest WordPress Site
Speed Up the Delivery

of CSS, JavaScript, Fonts, and Other Assets

💨

WP Offload Media doesn't stop at your Media Library. Your WordPress site includes asset files (CSS, JavaScript, fonts) that need to be loaded on every page and can slow your site down.

In just a few steps, you can offload and serve your site's assets from Amazon CloudFront or another CDN.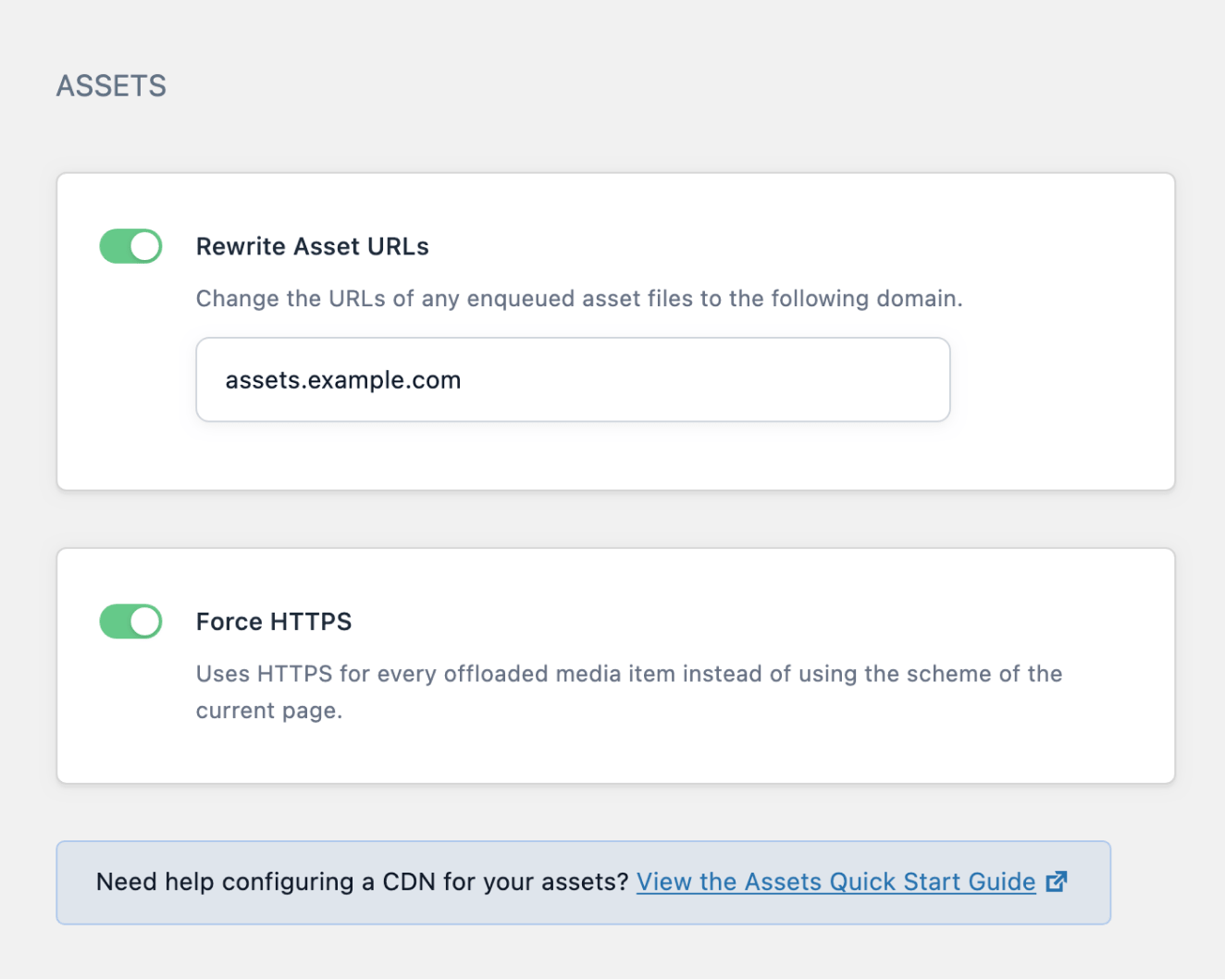 WP Offload Media Officially Supports The Following Third
Party Plugins
Some "just work" while for others we maintain some integration code for them to work well together. Regardless, we're committed to working with the teams behind these plugins to ensure they continue to work with WP Offload Media into the future.
Advanced Custom Fields

Offload and serve media used in custom fields with Advanced

Custom Fields.

WooCommerce

Upload your WooCommerce product files to cloud storage where they are securely stored and served to your customers

on purchase.

Easy Digital Downloads

Upload your EDD download files to cloud storage where they are securely stored and served to your customers

on purchase.

Elementor

Offload and serve your media when building your WordPress site using the

Elementor plugin.

Divi Builder

Offload and serve your site media files when using

Divi Builder.

WPML

Translate attachments of offloaded media files

for WPML.

EWWW IO

Optimize your offloaded images with the EWWW Image

Optimizer plugin.

Enable Media Replace

Easily replace your offloaded media files with the Enable Media

Replace plugin.

MetaSlider

Offload and serve your media files used in sliders and galleries created with

Meta Slider.

BuddyBoss

Offload and serve user and group images on your BuddyBoss

powered site.
Ready To Speed Up Your

WordPress Site?
Offload your media to Amazon S3, DigitalOcean Spaces, or Google Cloud Storage and serve it lightning fast with Amazon CloudFront or another CDN.