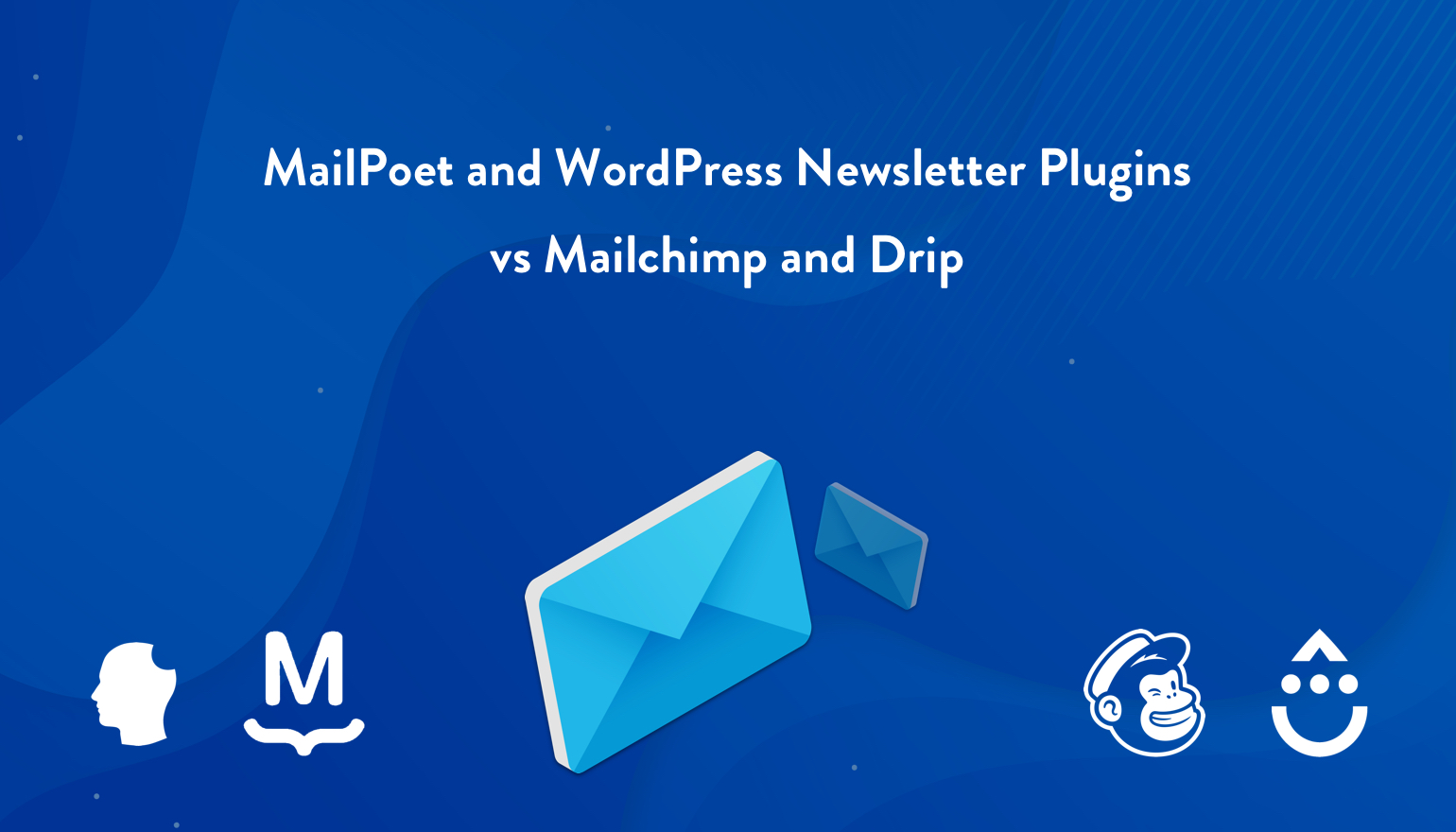 There are a lot of options when it comes to sending out email newsletters for your WordPress site. You can choose from dozens of plugins or dedicated services like Mailchimp or Drip.
With all these options, it's hard to separate the signal from the noise and make a solid decision on how to move forward. In this week's post, we'll take a look at some of these options and see if there's a clear and dry answer on when to use a plugin or a dedicated service.
MailPoet
Probably the most common email newsletter plugin is the MailPoet plugin. They have two versions in the WordPress plugin repository, but I'm going to be looking at their latest version, also known as MailPoet Version 3.
It has a clean dashboard that makes it easy to find the most essential features of the plugin:
And, like the other email newsletter plugins, it comes with several templates that can be edited via a drag-and-drop editor:
I especially liked how the template selection page was very reminiscent of the WordPress plugins or themes pages, it's always nice when a plugin matches up nicely with the WordPress core UI:
MailPoet sets itself apart from the other newsletter plugins by offering its own email sending service that is free for up to 1,000 subscribers and includes the premium version of the plugin, with costs scaling up with the number of subscribers. This could definitely come in handy if your current email service doesn't support the number of emails you'd be sending out with a newsletter, or if you're trying to switch over to a new service.
The Newsletter Plugin
The Newsletter Plugin by Web Agile bills itself as "the most advanced newsletter plugin for WordPress". It certainly looks the part, with a clean-looking dashboard that shows you your statistics and links to the most commonly used functionality: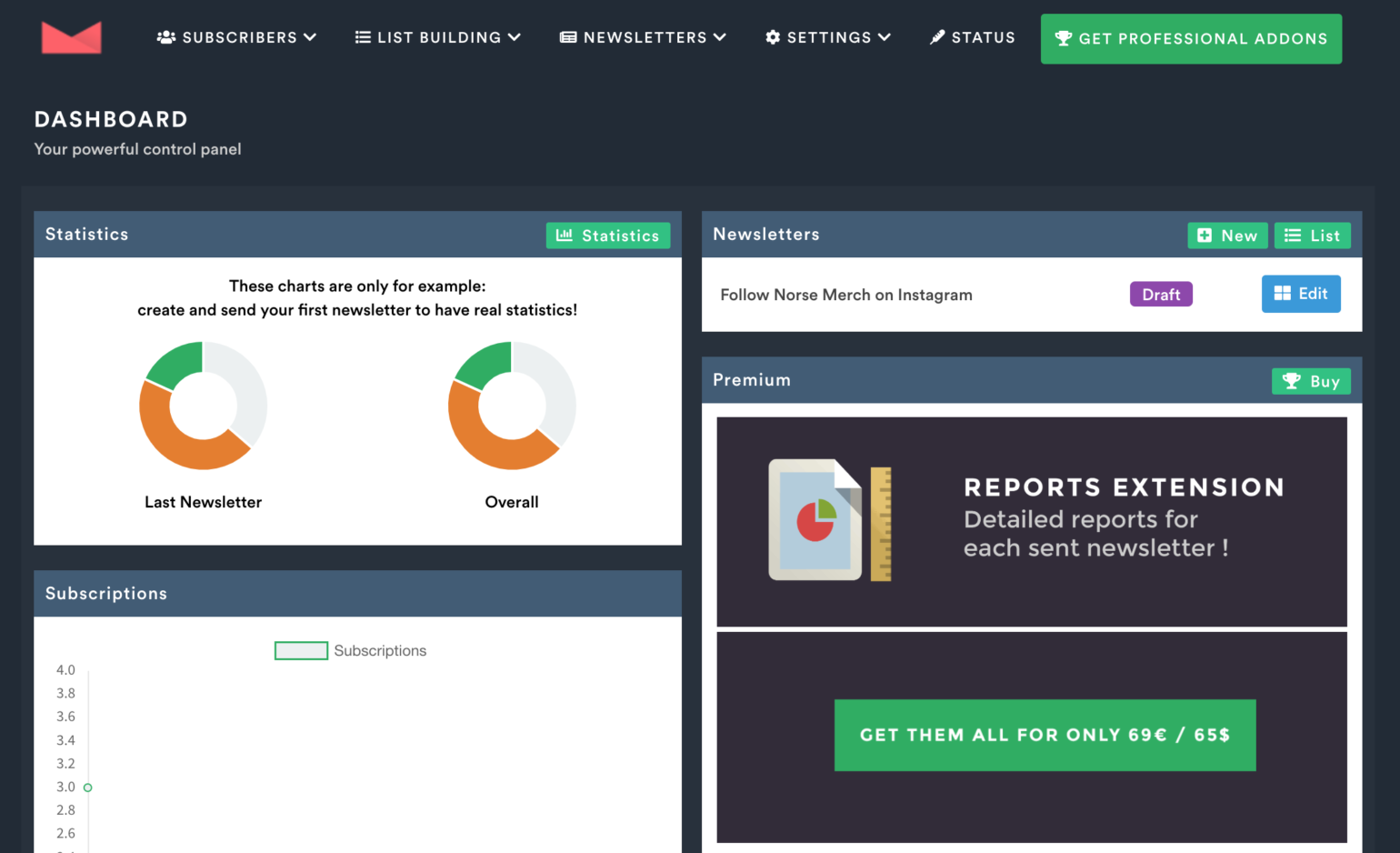 Creating a good-looking newsletter is also very easy, with a drag-and-drop builder that feels similar to the WordPress block editor:
The documentation for The Newsletter Plugin is ample, with documentation available for the core plugin and each of its main add-ons. However, I found it a bit hard to read at times as it lacked screenshots, but it was still easy enough to find what I was looking for.
The Newsletter Plugin itself is completely free and offers unlimited subscribers and newsletters, but it does offer several extensions and integrations that are only available with a premium license. That premium license starts at $65 per year for a license that covers three different websites. For $265 per year, you can install all paid extensions on an unlimited number of websites. Some of the features/extensions you'll be missing out on if you stick with the free version include better reporting, a WooCommerce integration that allows for better segmentation, and blog post newsletter automation.
In terms of sending, The Newsletter Plugin can integrate with the sending plugin or service of your choice (including WP Offload SES!). The premium license also includes integrations with Amazon SES, Mailgun, SendGrid, and others.
Email Subscribers & Newsletters Plugin
Another popular email newsletter plugin in the WordPress space, the Email Subscribers & Newsletter plugin has over 100,000 active installs and a 4.6-star rating on WordPress.org.
Like The Newsletter Plugin, the base Email Subscribers & Newsletters plugin is completely free and open source. There are also two additional licenses to choose from – a Starter license that is $78 per year, and a Pro license at $129 per year.
The Starter license includes additional integrations, premium email templates, and "High Security". The Pro license includes post digests, autoresponders, analytics, and "Advanced Security". I'm not a fan of how they advertise higher levels of security in the different licenses – if there is something you can do to improve security, that should be done across the board, and not behind a paywall.
I tried finding more about what is improved on security in the paid licenses, but the details on that were vague beyond a Captcha and blacklists.
They mention something called "Plugin Access Control", but I wasn't clear on what exactly that is. Does that mean that anyone can access the plugin in the free version? Or that it just lets you control what exactly is accessed? I tried researching further, and only found vulnerability reports for previous versions (which seem to have been addressed). Regardless, it's not a great first impression.
The plugin itself was pretty easy to set up, but I was a bit disappointed by the templates available in the free version. It only comes with two plaintext templates, with more available in the pro version.
You can customize these templates with a variety of tags using the WordPress classic text editor, but it falls a bit short compared to the drag and drop editors available for free in other solutions. Still, that may be more than enough for many use-cases.
And also like The Newsletter Plugin, Email Subscribers & Newsletters works with WP Offload SES or any other WordPress email plugins you may have, and includes SMTP and integrations with other email services in the paid version.
Mailchimp
Mailchimp is probably the most widely-recognized email newsletter solution. There are several WordPress plugins that can be used to integrate Mailchimp with WordPress, but the primary offering is the Mailchimp service itself.
That service is undoubtedly a solid one. Mailchimp was founded back in 2001 and has had plenty of time to refine its offering. You can expect all the usual bells and whistles here, including a drag and drop email builder, A/B testing, and CRM functionality.
They offer a free plan that includes newsletters for up to 2,000 contacts per month. That should be more than enough for smaller sites, but sites with large email lists will need to spring for a paid plan. Their paid plans start at $9.99 per month for an Essentials plan that includes 500 contacts, A/B testing, and custom branding. Custom templates and automation are locked in with the higher tiers of plans, starting at $14.99 per month for the Standard plan, which also only includes 500 contacts. All plans allow you to upgrade the number of contacts you can store for an additional monthly fee.
Drip
Drip is what we're currently using here at Delicious Brains, and we've previously written a comparison of Drip and Mailchimp.
It's different from the other solutions here in that it's not just an email newsletter service. Instead, it bills itself as a complete eCommerce CRM and marketing automation platform. So you'll get a lot of features outside of email newsletters, including customer behavior tracking and a WooCommerce integration.
Because of this, Drip makes the most sense when used in conjunction with an eCommerce site, and I wouldn't recommend it for a site that doesn't revolve around sales. In these cases, I think Mailchimp is the better option.
Another way Drip sets itself apart from the plugins and services mentioned in this article is that automation is key to everything. For example, if you want to send a broadcast in Drip, you're first presented with a flowchart-esque list of conditions you can select from to gather the recipients that will receive that broadcast.
This makes it easy to do something like creating a broadcast for everyone on your email list who hasn't purchased anything in the last month and/or people who haven't opened the past few emails from you:
After selecting your recipients, you're back to the familiar drag and drop interface that we all know and love:
Overall, while it seems intimidating at first, Drip is a very intuitive way to reach out to your customers.
In terms of pricing, they offer a free trial, after which the paid plans start at $49 per month for up to 2,500 people in your account.
So, Should You Use a Plugin or Stick with a Service?
As I was expecting going into this post, there's no clear-cut answer, and it will depend on your exact needs. Each of these products brings its own unique take to email newsletters.
For a smaller site or sites where newsletters are nice to have but not completely essential, I think using a plugin can make sense. I like the Newsletter plugin's approach – unlimited contacts and newsletters, with the ability to pick and choose what extensions you need as your blog and newsletter requirements grow.
For larger sites or sites with huge email lists, I think I would stick to a tried and tested service like Mailchimp or Drip. There's much less configuration, and you don't need to worry about bringing your own email service. Drip, in particular, seems like a no-brainer for busy eCommerce sites with a degree of automation and segmentation that is a cut above the rest.
What do you use to send out your email newsletters? Are you happy with that solution? Let us know in the comments.