Boom. Things look different around here. A little bit anyway.
For the better part of a year, we've been working on an updated look for our site which turned into some updated looks for our plugins which might have turned into something else if we didn't just set a deadline for ourselves 😂
We always enjoy reading about the insider details of how other shops choose to do these internal things so we thought we'd return the favor by sharing more of what we've done & why. We even got our designer to share about their process.
So what's different?
If this is your first time at our site, first off – welcome (and also you should totally subscribe to the blog for more awesome free content for devs – scroll to the bottom of this post to do so /end obligatory marketing ask) and second – let's show you what things used to look like.
The Look
Here's an image of what our homepage looked like at the beginning of last year:
Here's what it looks like now:
Here's what our WP Migrate DB Pro sales page used to look like:
Here's what it looks like now:
Ditto WP Offload S3: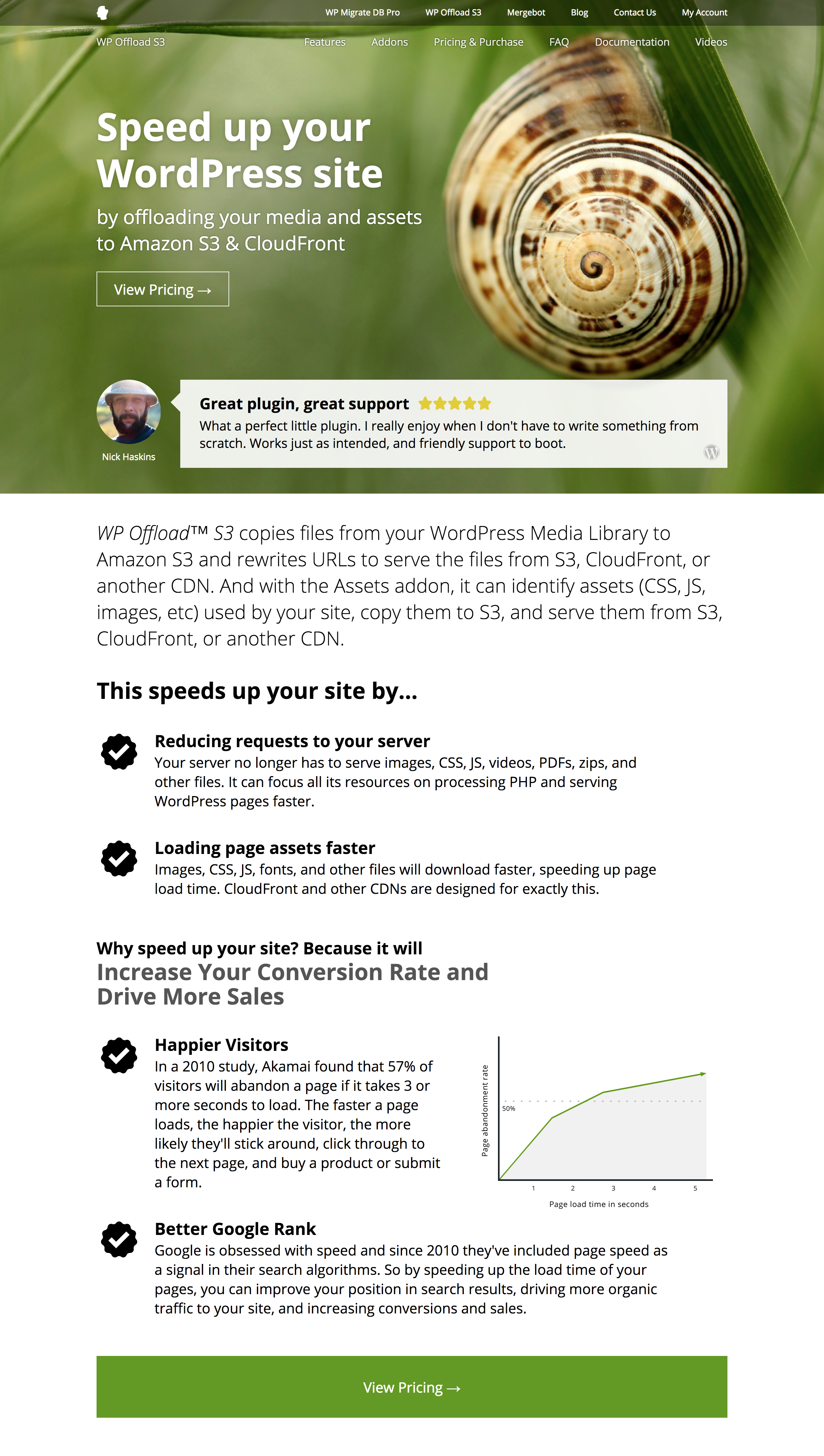 Now:
Responsive Design
As much as we might personally advocate that of course your site should be responsive in today's day and age, our own site was…. not so much.
Call it the cobbler's shoes dilemma or whatever you like but it was way beyond time for us to update the site. Because mobile is like a thing now?
In truth, making the site responsive was what started this entire project. But when you don't have a dedicated site team, things can take a little longer than expected.
Of course, responsive design means a better experience for our readers (are you reading this on mobile right now? Let us know how it looks in the comments!) but we also had our eye on the impending mobile-first update coming from Google.
Because everyone likes a good before & after, here's what reading a blog post used to look like on our site:
And here's what it looks like now:
But the Plugins!
In March last year we engaged Dose Media to come up with fresh new branding for our plugins.
To quote Brad:
Very little effort went into our original branding. When I shared WP Migrate DB on WordPress.org in 2009, I found a nice photo of geese migrating in the sky and made it the banner for the plugin. At the time, I wasn't thinking it would become a product and didn't even save the full resolution version of the photo. When we launched WP Migrate DB Pro in 2013, we had to use a different photo. That was our first 'rebrand'. 😂 It was the same story for WP Offload S3, except in that case we even had to change the name of the plugin from "Amazon S3 & CloudFront" so as not to violate Amazon's trademark. All that to say that professional branding was long overdue.
The concept of migrating geese has turned out to be very solid branding and we definitely wanted to stick with that concept. Photos don't typically make for versatile branding, but the photo of geese in flight turned out to be pretty good.
Because the photo is just silhouettes of birds against a blue background, it was fairly versatile. We even used it on a t-shirt and it turned out to be quite popular.
The new branding is a huge improvement though:
For WP Offload S3, the concept of a snail was problematic. The plugin promised to speed up your site and yet the branding conveyed sluggishness. In fact, it was literally the photo of a slug with a shell on its back:
The new branding is meant to feel fast and speedy:
The Process
We sat down (ok over email) with Tim Foster of Dose Media to get some insight into their process and what it takes to do a rebrand like this:
Q: Introduce yourself. What do you do?
We're a two-man Branding and Web Design shop based in Halifax, Nova Scotia. Our mutual passion for creating incredible branding both in the physical and online space coupled with 20+ years of industry experience led to the birth of Dose Media.

If you look closely, you can see some concepts that we didn't go with.
Q: What were you engaged to do for Delicious Brains?
We were tasked with branding both the WP Migrate DB Pro and WP Offload S3 plugins.
We had been working with the DBI team for a couple of years, but when Brad approached us to have a look at branding the plugins, we were stoked to sink our teeth into it. It was indeed a project that was on our radar for some time; we were just waiting for a crack at it ;).
Q: Tell us more about your process.
Every project we approach has its unique challenges, so our process is more fluid than concrete. We like to keep it that way instead of creating roadblocks because we MUST stick to a specific protocol. When tackling the Delicious Brains product rebrand, we were building two logos simultaneously while keeping it in the back of our minds that this look would most likely translate into future initiatives as well. It was vital to its' success that we created a look that had legs not just today, but something that would kick ass years from now.
We started the process by pulling together five different art directions; breaking down the style with mood boards and some language that could wrap around it. You guys selected two directions: One that focused on stories and the other had a heavy focus on symbolism.
We took these selections away and started the ideation process – brainstorming, sketching and testing. We usually hang out in front of a whiteboard the length of a semi truck with a couple of cold ones and throw ideas at the wall. I distinctly remember we looked at each other like, "Why are we not just using the iconic DBI head and breaking the icons out of the back of it?" It was at that moment we knew we had some fire to work with! We had a direction that would help build a cohesive brand world and tie the equity back to the parent brand in a way that didn't feel forced. It just made sense.
Q: Tell us more about this project. What did you hope to accomplish?
It's no secret that developers predominantly created what's on the WordPress plugin market. We felt like there was a real opportunity to make Delicious Brains stand out.
The final brands are iconic visuals built from the foundation of the Delicious Brains parent identity. The logos are made of simple geometric shapes that come together to create small illustrations that tell the story of each plugin's function and purpose.
The expansion of the parent Delicious Brains brand world helps create a consistent visual language between the plugins. No matter where you see a Delicious Brains plugin, you will know who created them.
Q: What was especially interesting or challenging about this project?
Branding two different products at the same time was different, but it was a good challenge, and we believe the results were a testament to our process.
Presenting mood boards and defining art direction up front can be a huge time saver and can cut out a lot of the guesswork when building a brand. We always incorporate this step into any project to ensure everyone's on the same page before we dive too deep into any concepts. We believe that having clients involved from the get-go yields the best results.
Other Considerations
It's tempting to want to launch everything that you want to change about your site all at once. But when it comes to maintaining favorable search traffic from Google, that can be a risky move.
Part of the considerations for the site redesign you're looking at today was making sure we rolled it out in a way that meant not everything was done all at once. The theory being the less we change all at once, the easier it'll be to spot where Google might have issues (instead of guessing which of the 100s of changes we made threw us off our previous rankings).
The other piece goes back to one of the goals of re-doing this site. Will the changes we make have a positive impact? Will we see more email subscribers, more sales?
The less we change all at once, the easier it'll be to tell if and what has made a positive or negative change on those numbers.
So you might start to notice small changes going live over the next few months. We're treating our site like one of our products going forward, always iterating on it and improving it bit by bit. The hope is that we'll never have to do another redesign of this scale in the future. Hopefully. 😬
Phew. It's Done (or not)
Safe to say, we're pretty psyched about how it all turned out but we'd love to hear more about what you think or hear more about your own experience with a rebrand or site redesign – let us know in the comments.